Overnight to Soroa and Viñales.
Not to miss the new CANOPY TOUR EL FORTIN in Viñales!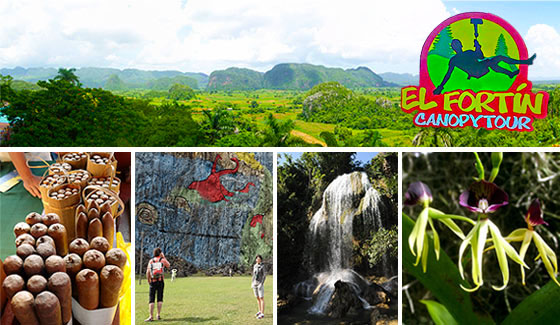 Departure time:
7:30 am
Duration:
2 days.
Price: Depends on the passenger quantity. Please, send us your request and we'll email You with your specific price.
The excursion goes in an acclimatized car with driver and a tour guide. The price includes the fuel, the lodging and the tickets for the visits. The meals can also be included, according to Your prefferences.
Likewise, for being such an amusing activity, loved by many adventurers in the world, we added the new Viñales CANOPY "EL FORTIN". If You like adventure, then You can't miss the tour hanging among trees and the beautiful bird sight view of the valley.
Program:
Day 1:

Departure to Soroa at 7:30am

Visit to the Orchids Botanical Garden, with a local guide in English.

Trail to Soroa lookout point, about 2.5km trail to the top to enjoy an spectacular view of Soroa and the Rosario Sierra.

Trail to the Rainbow of Cuba: the Soroa Waterfall. Time for a refreshing bath in the river.

Creole Lunch.

Departure to Viñales.

Arrival to the lodging place and time to relax.

Dinner.

Night activities according to available local offers.
Day 2:

Visit to Los Jazmines lookout point to enjoy an amazing view of Viñales Valley with its unique geological formations, the Mogotes, integrated with farmers way of life. This place is National Monument, National Park and UNESCO World Heritage in Cultural Landscape category.

Visit to the Prehistory Mural, a huge work of art in a cushion hill, made by a Cuban artist and local farmers.

CANOPY "EL FORTIN": tour hanging among trees through 1000m of cable with a beautiful bird sight view of the valley.

Visit to a Tobacco farm to learn, directly from the local farmers experience, about the production process of the best tobacco leaves in the world.

Visit to the Indian Cave, to enjoy a subterranean boat ride through the Indio limestone cave system.

Lunch at La Carreta de San Vicente Restaurant.

Free time for horse riding or another local activity.

17:00, return to Havana.
---