Excursion: History, sugar and the sea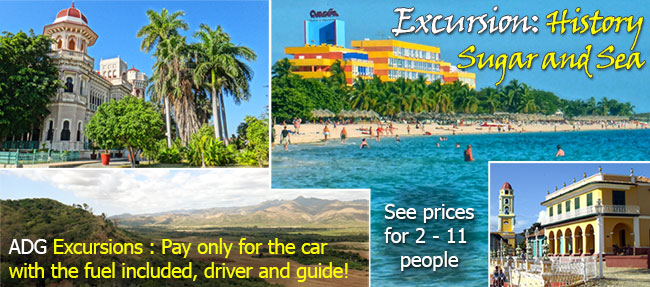 Duration:
3 days / 2 nights.
Excursion program:
Day 1: Departure 7:30 to Cienfuegos. City tour. José Martí Park and surrounding. Visit to Tomas Terry Theatre, boulevard, artisans fair and Benny More Statue in the Prado Walk. Panoramic tour of the Punta Gorda residential area. Visit to Palacio de Valle. Continue to Ancon Beach. Night in Trinidad.
Day 2: Trinidad City tour with visits to the city Scale Model. Major Square and surroundings. Cantero Palace and its lookout point with an amazing view of the city, the coast and Escambray Sierra Mountains. Visit to La Canchanchara. Free afternoon to continue walking the city or to enjoy time at the beautiful Ancon Beach, according to your preference. Night activity according to local programming.
Day 3:
Visit to Valley of Sugar Mills lookout point, Manaca Iznaga hacienda and belfry. Return to Trinidad to continue to Havana in the afternoon.

In our modality ADG Excursions the prices include the Auto (acclimatized), the Driver and Guide. Meaning that You'll never have to be worried for the driver and guide expenses, nor the fuel or parking payments.
Although the lodging and meals of our clients are not included in the price, we'll reserve the lodging with the due advance. Also, on request, we will reserve the restaurants of your preference. The payment for these services will be made by the own client directly to the staff of the places where they use/receive the services.
The payment for the excursion will be delivered to the tour guide at the beginning of the service.
The prices per person for this excursion are:

In a 5 person capacity auto:
Traveling 2 people: 342 CUC
Traveling 3 people: 230 CUC
Traveling 4 people: 170 CUC
In an 8 person capacity auto:
Traveling 5 people: 212 CUC
Traveling 6 people: 177 CUC
Traveling 7 people: 150 CUC
In a 12 person capacity auto:
Traveling 8 people: 174 CUC
Traveling 9 people: 155 CUC
Traveling 10 people: 140 CUC
Traveling 11 people: 128 CUC
If the group has more than 11 members, please, contact us and specify the number of members and characteristics of the group. You will receive your price in less than 24 hours.

---