Climate
Moderate subtropical. The Cuban territory grazes the Tropic of Cancer, and due to its long and narrow configuration, on an east-west axis, it receives the refreshing action of the trade winds and the sea breezes. During the short winter, the island is cooled by masses of cold air from the North; those cold fronts do not last long. The day and night temperatures differ less in the coastal regions than inland. The eastern part of the country has a warmer climate than the western part.
Temperature
Average: 24,6º C (76,3º F), Summer average: 25º C (77º F), Winter average: 22º C (71,6º F).
Seasons
There are two, clearly defined: the dry season, from November to April; and the rainy season, from May to October. The average annual precipitation is 1375 mm.
Time zone
Cuba is located in Time Zone 19, whose midday is 75º West, crossing Yateras in the Province of Guantanamo.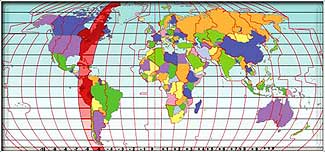 It is important to mention that, from the last Sunday of March to the last Sunday of October, summer time is established in Cuba acquiring the time of midday 60º West, and time is advanced one our so the difference between the Island's time and Greenwich's (GMT) is of one hour less.
Orography
There are three outstanding large mountain ranges. In the West, the Sierra de los Organos, in the central part, the Sierra del Escambray and in the southern region of eastern Cuba, the Sierra Maestra, where the highest point of the country is located, the Pico Real del Turquino, 1 974 meters above the sea level. Its longest river is the Cauto, with a length of 250 kilometers.
Geographic location
Cuba, the biggest island in the Caribbean, is located at the entrance of the Gulf of Mexico. Cuba's nearest neighbors are: to the East, Haiti (77 kilometers), to the West, the Yucatan Peninsula (210 kilometers), to the North, Florida Peninsula (180 kilometers) and to the South, Jamaica (140 kilometers).
The Bahamas are very near, toward the Northwest of the eastern end of Cuba. Formed by around 4 195 smaller keys, cays and islets, it covers a surface of 110 922 square kilometers and 1200 kilometers of extension, on a mostly karstic and flat territory. Its nature, diverse and prodigal, shows wide variety of plants, animals and more than 280 beaches, virgin islands, grottos, caves, mountains, forests, savannas and marshes.