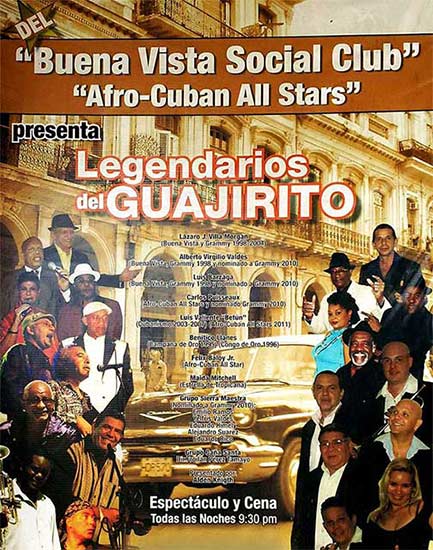 El Tablao de Pancho is part of a recreational complex directed by an Spanish- Cuban association. In both the Guajirito Restaurant and this night center, You will taste recipes of Cuban and international cuisine in a very nice atmosphere, decorated according to Cuba and Spain traditions and listening to authentic Cuban music. Many excelsior and renowned musicians perform every night: Buenavista Social Club members, Afro-Cuban All Stars, Tropicana musicians and dancers, Sierra Maestra, etc.
Prices:
Show with dinner: 50 CUC per person.
Only the show: 30 CUC per person.
Reserve with enough time to assure your places for the number of people You´ll need in the night of your choice. There´s no need to make a deposit. The payment must be done in the morning of the selected day, in the same recreative complex.
---