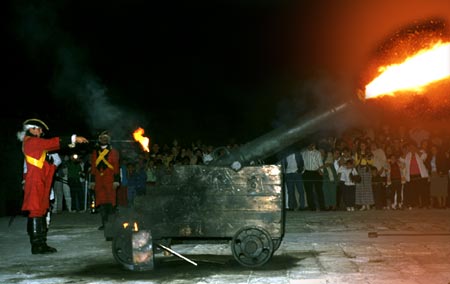 The Cannon Shot Ceremony is a tradition of the time when the city was surrounded by a wall, of which several tracts are still conserved. The 9 doors of this wall opened up at 4:30am o'clock and closed at 8:00pm o'clock. The cannon shot was the announcement sign for the citizens that the doors were to be open or closed.
Still after the wall was almost totally missed, the tradition stayed, although only with the shot of the night that was made at 9:00pm o'clock instead of 8:00. During the World War II this shot was substituted by a siren, being restored years later by the traditional cannon shot of 9 o'clock. All generations of Havana citizen, and many visitors, use it to adjust their clocks, and they will continue doing it every night.
Nowadays the ceremony is executed by 7 young boys as part of their Obligatory Military Service. They are soldiers of the ceremonies battalion at San Carlos de La Cabaña Fortress. The ceremony lasts about 30 minutes and the canyon is named "Caudillo".
We invite You to know fortress, to enjoy the ceremony and else an spectacular city view at night.
Departure time: 19:00
The price is variable according to the clients quantity. Send us your request and we'll answer with your specific price.
---